RouteSavvy User Guide – 1.2 – Access/Login
To register for RouteSavvy visit https://www.routesavvy.com/routesavvy-free-trial/ 
Once you have registered for RouteSavvy, you will receive a trial license key, the license key is unique to your account and should be kept private. Example: https://web.routesavvy.com/Home/Index/605f1fff46. Clicking on the link will load RouteSavvy and login automatically, no need to remember a user name and password.
The "Welcome to RouteSavvy" dialog indicates the number of open RouteSavvy instances active and licensed, and offers the option of using a previously auto-saved project. If your browser is closed, your working locations, stops, shapes and all data are automatically saved, available for the next time you access RouteSavvy. Make sure you select "Continue Previous Work" or if you wish to start a brand new session simply select the "Start Over" Button. The "Create Route" button allows you to immediately begin creating a route with a file that choose or drag-n-drop to this dialog.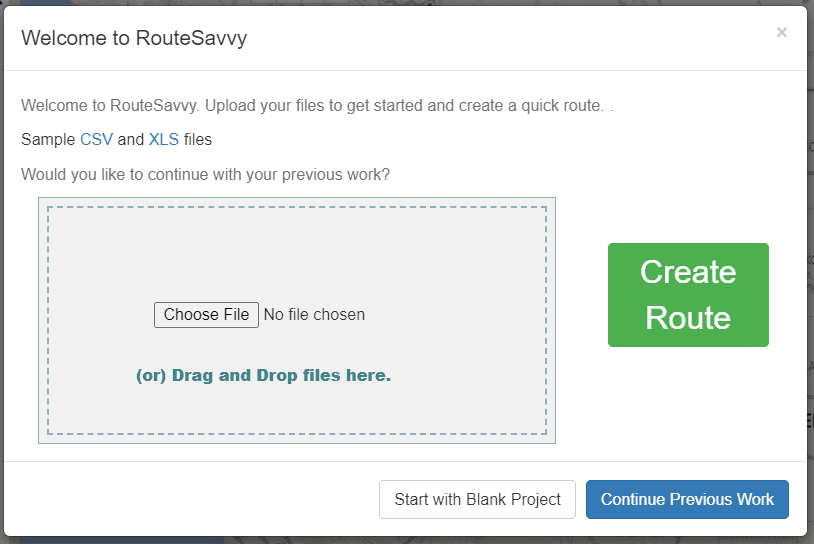 When RouteSavvy loads the initial screen provides an option to center the map based on your browser's geo-location, this doesn't save your location just centers the map to your location. You can Allow Once or Allow Always or Ignore if you don't want the map to be centered.